Playing multiplayer games over the Internet has never been easier. But playing online can still be something of a lonely experience. Gaming over a LAN network is the perfect cheap night in with a few mates. If you're playing against each other, then you can taunt them in person. It is much more satisfying this way – as is seeing their expression of defeat.
Strategy
If any genre of game is going to benefit from seeing you teammates in the flesh, it's strategy. Trying to co-ordinate allies over the Internet and keep up the flow of instant messages in the heat of battle can be a real pain – and that victory speech just isn't going to have the same effect via keyboard.
Anyone who ever saw the BBC show Time Commanders will know how fun the historical strategy series Total War can be in a group situation. All the titles in the series offer multiplayer battles over LAN and allow you to do battle one-on-one, set up two teams to fight it out or to team up together against the computer.
The new online co-op campaign mode allows you and an ally to take on the grand campaign maps side by side. However, these are somewhat limited as you are forced into a perpetual alliance that cannot be broken; the ability to perform a sly little backstabbing on your mates would make things a lot more interesting. Perhaps a more in-depth multiplayer campaign will find its way into Rome II later this year.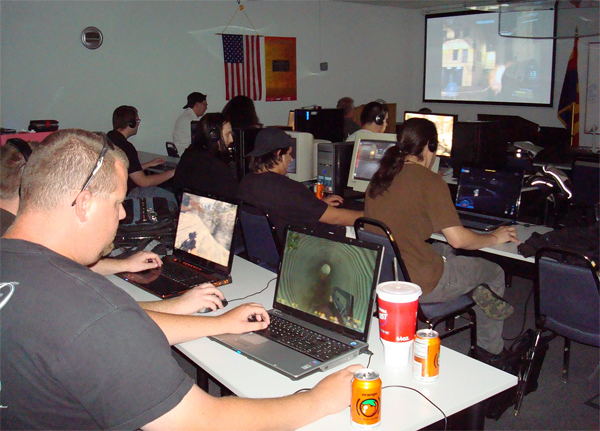 Another favourite for LAN strategists is the award-winning World War II series, Company of Heroes. Up to 8 players can do battle as Allied or Axis forces while striving to control the map resources and annihilate the enemy. Offering a spectacular array of historically accurate units, along with easy-to-master game mechanics, make it great for history geeks and casual gamers alike.
There are hundreds of strategy games for your PC out there that offer fantastic LAN multiplayer action. But if commanding and conquering isn't for you, there are other options.
Shooting for survival
Ideally, you want to be in the fighting, rather than watching from afar. If that's so, then perhaps you need a quality shooter. The PC offers a number of great multiplayer shooters, perfect for a night in over the LAN.
A favourite with first-person shooter fans is the Call of Duty series. The originals were set in World War II, but things have moved on since the fourth instalment, bringing it into the modern era and even the near future. Set your two teams and fight it out, or simply have a chaotic and bloody free-for-all. There are also additional multiplayer modes such as the classic 'capture the flag' to keep things interesting.
Of course, no piece about LAN gaming would be complete without mentioning Counter Strike. This much-modified game is an addictively frantic shoot 'em up that pitches terrorists against counter-terrorists. The coolest thing here is the variety of mission objectives you can add to your matches, which keeps play fresh.
If you don't much fancy killing digital representations of your friends, you can always opt to protect each other instead as you strive to survive the zombie apocalypse in Left for Dead. This horror-survival game can get pretty creepy too, so the more faint hearted might appreciate the company.