If you are very serious about photography then the new DSLR camera from Nikon will definitely satisfy your needs. The new Nikon D3200, the lightest DSLR camera from Nikon with excellent features is a compact and perfect camera. Here is Nikon D3200 review revealing its best features.
CMOS sensor:
This compact camera is equipped with a 24.2 Megapixel CMOS sensor and an EXPEED 3 image processor. Nikon polished the high resolution sensor from Sony to let you enjoy pictures with great detail. The best part is you can retain the same quality of the image even after cropping the image. This extraordinary CMOS sensor has a built in sensor cleaning technology and an ISO range from 100-6400. Within this range the ISO 100 is preferred for noise free performance. While the ISO 6400 is extremely sensitive to light but you have to bear with the noise. However, the noise at different ISO depends on the size of the image you wish to see. All ISO ranges give perfect quality images at normal size. The ISO 6400 is preferred for small print size.
Battery:
The EN-EL 14 battery offers about 540 shots at once.
Viewfinder:
The viewfinder is equipped with a pentaprism mirror that has the capability to cover 95% of the images in the vicinity. However, it can be adjusted as per the requirements.
Controls:
Nikon D3200 is equipped with excellent controls to ease the usage of camera. It has buttons for guide mode, video capture and also to change the views. This will let you shift to the desired mode without going through crazy menus. Attractive part of this compact camera compared to earlier models is all these controls are located at easy to access positions giving it a better design.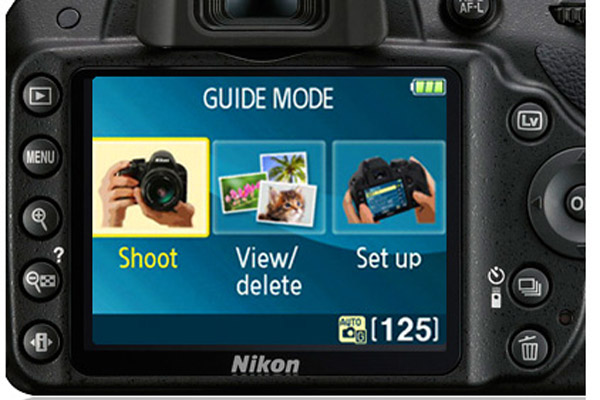 Screen:
3-inch/7.5cm LCD with high resolution gives bright and clear view of the images. This 921k dot TFT screen lets you view detailed image with clarity. This is perfect for live view as well as for viewing the images.
Other attractive features worth discussing in this Nikon D3200 review include availability of various autofocus modes such as, Normal area, wide area, subject tracking and face priority modes, wireless remote control to control shutter and finally the built in flash system. To avail this autofocus feature it is essential to use AF-S type of lenses. You will have to focus manually with AF and AF-D lenses.
Lastly, Nikon D3200 with the new guide mode helps even novices to operate the camera easily and make good use of all the available features. It is an awesome camera at best price, but if you have some extra cash then you can grab Nikon D7100 from the market.