MoneySupermarket has become well known for its online price comparison tools. However, until recently it has been a bit of a chore to access these functions from mobile devices.
Thankfully, a new smartphone application from MoneySupermarket addresses this issue, making it much easier for iPhone owners and Android fans to check out the best deals on car insurance when the time comes to renew their cover.
The car insurance app is free to download, but since it will require network access to give you up-to-date quotes your network may charge you for any data used. This can be avoided if you have your iPhone or Android handset connected to a Wi-Fi hotspot, so for many the process of comparison will not cost a thing.
The app is well laid out and intended to work well on touchscreen smartphones, so you get nice big buttons and an interface which is not too fiddly during typical interactions. There are minor aesthetic differences between the iPhone and Android versions, but the core features remain identical.
First-time users will need to fill out forms which outline their personal information and the details of whichever vehicle they want to insure. This is, of course, necessary if you actually want to be provided with quotes from the major insurance firms which work with MoneySupermarket.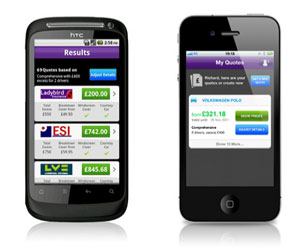 Once you have completed all the necessary form-filling, you will be able to search for insurance quotes in real time, with each provider being ranked by price on an annual and monthly basis. You can also see whether cover will include windscreen protection and a courtesy car, which makes it easier to determine which offer will best suit your circumstances.
You can call insurers from within the app, so there is no need to copy down phone numbers. In addition, the app will save your details and quotes, which lets you retrieve past offers and renew your insurance in just a few button presses.
The main advantage of using this insurance-comparison app is that it will help you save a significant amount on the cost of your cover and you can use it wherever you happen to be. That means that time spent waiting at the bus stop or travelling to work can be put to use by comparing insurance prices, rather than wasted.
The only possible downside is that some people might be more comfortable with using the full desktop website for this service and will not necessarily want to rush into making any commitment to a policy if they have not had time to sit down and consider it in full.
Even if you do not use the app as a direct means of buying new car insurance, the fact that quotes are also emailed to you so that you can retrieve them from your PC will sidestep such issues and give you greater flexibility.