2011 was an amazing year for games, but it has now become a memory, now we have 2012 at hand and we are eager to see which games top the chart. Here we have prepared a roundup of top 10 Most Anticipated Games of 2012, take a look:
Final Fantasy XIII-2
Final Fantasy XIII was a big hit but now we are expecting a much improved game play in its sequel the Final Fantasy XIII-2. SQUARE 'the developer of this game' now has to eliminate the downsides which were found in the preceding game, to make it a perfect sequel. If this makes a hit, we may perhaps have one more remarkable JRPG in our charts.
Kinect Star Wars
Did you love star wars? Well, what if you could play it in your kinect? Awesome, isn't it? You will be able to play as Jedi, drive the pod in 2012. Experience the immersive world of Star Wars and its wonderful characters like never before.
Mass Effect 3
Mass Effect 3, the highly anticipated game, I m waiting for it too! Just because its game play is amazing and the game has some of the best characters in the business.
Max Payne 3
'ROCKSTAR', the champ of game developers will present you with Max Payne 3 in March 2012. After considering how Rockstar developed the Red Dead franchise and reached it to new heights, we can sure say Max Payne 3will be a big hit.
Prey 2
–Prey 2– seems like to be a big hit and it may be a fit follow-up. The Darkness game has to fear from its standing competitor.
Kingdoms of Amalur: Reckoning
With the RPG portion presently conquered by beasts like Dragon Age, Elder Scrolls, Fable and Final Fantasy, we don't think if there is a space for one more blockbuster universal game to edge in and make a big hit? Well, we have KINGDOMs OF AMALUR: Reckoning here so its more likely to grab a good spot in the RPG section.
The Secret World
If you want an entire new extraordinarily multiplayer online gaming experience to take over your life in 2012, the newest manifestation from Age of Conan maker 'Funcom' may perhaps be just the deal for you. 'The Secret World' is a game full of conspiracies and adventure in which players take part as one of three mysterious societies, the 'Illuminati', the 'Dragon' or the 'Templars', and then fight with their opponents across a modern day location scattered with legendary and spiritual basics. Rumor has it that, there will be no leveling up and no modules – players will be able to modify their characters by means of a freeform, skill-based system, Previews for the game have been quite positive and a beta version is down to establish before long.
I am alive
Do you like survival horror games? You certainly do but, and Modern Warfare 3 could be categorized as a survival game, but 'I am Alive' takes you to the next dimension of horror games by putting you in a potentially real state, actually a disaster ridden metropolis, and checks real survival skills. Publicize a few years before with an epically passionate promo, 'I Am Alive' has been drawing the attention of gamers for quite some time now, but with a Quarter 1 assigned release, it seems like gamers will be able to play this incredible game soon.
Dishonored
Ah well, we have –Dishonored– here. The game with amazing graphics will put you in a world of imaginations, which you will truly admire. Besides the incredible graphics, the game play will be overwhelming too.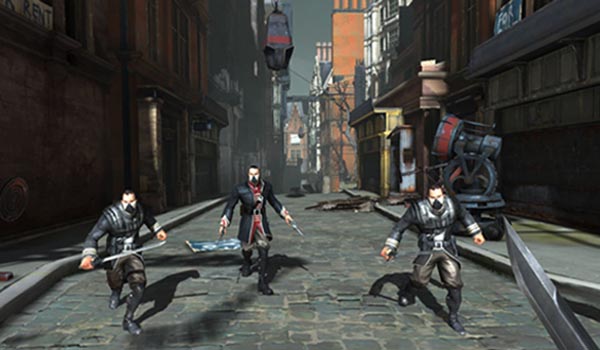 Overstrike
Overstrike, a 4 player team shooter game, where a ragtag team of armed force, burglars and scientists must put off an international group of radicals from demolishing the mankind. The game has a bit of 'cartoon-ish' graphics, absurd gadgets and extra-large arms and team play will make a great experience.
So which one of these games are you waiting for in 2012?