Finally, Samsung has decided to bring out the competitor for Apple iPhone 4S. The all new Samsung Galaxy S3 is the much awaited phone that Samsung has launched after the tremendous success of Samsung Galaxy S2 which has been voted as the best smartphone for the year 2011. For many Samsung smartphone buyers the all new Galaxy S3 is an upgrade to the next level that will bring them better features and options that they have been waiting for many months now. Let's take a quick look at the Samsung Galaxy S3 review that will focus on the new features that are incorporated in the smartphone.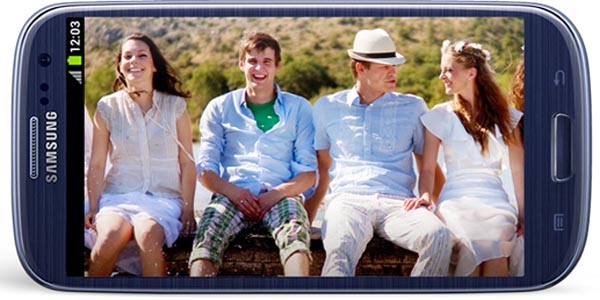 Design
During the launch of Samsung Galaxy S3 Samsung said the design of the smartphone is inspired by nature and therefore the smartphone does not have any sharp edges. The design allows better grip in the hand and therefore it becomes easier to handle and operate the phone through one hand.
The brush polycarbonate body is available in two colors, Pebble Blue and Marble White. The dimensions of the smartphone are 136.6 X 70.6 X 8.6 mm.
On the front it has large 4.8 inch Super AMOLED HD display that ensures that customers have better visual experience. However, on the rear side it has a plastic feeling which might not appeal to all customers. However, the plastic rear body makes the handset feel extremely light and easy to carry around.
Interface
Samsung has made some changes to the TouchWiz program that was also available in the Galaxy S2.  However, there are some good changes that they have made like the lock screen is more interactive than before. Samsung has also incorporated certain quick control functions that actually help the customers to navigate around in the menu so that they do more things in less time.
Camera
Samsung Galaxy S3 comes with 8 megapixel camera that can really perform because of the new sensor that they have incorporated inside. The camera comes with various great features like Buddy Photo, Share, Burst Mode, Face Zoom and various other software optimization options. Samsung claims that with Android 4.0 operating system they can do more with the camera programs to improve the entire photography and video shooting experience.
Battery Life
Samsung understands that with so many features loaded inside the smartphone consumers need powerful battery and therefore they have incorporated 2100 mAh that is going to make users handle all their apps and menu options without draining out in the middle of the day.