The Samsung Galaxy S5 smartphone is specially tailored to bring a lot of ease, comfort and brilliance to your life. This very fresh flagship has already entertained a record popularity in the market much before its official launch. Equipped with new and never-heard-of-before features, like 'S Health' and a heart rate sensor, the Samsung Galaxy S5 boasts technology that is bound to bring comfort and beauty to your life.
Though it may apparently look like a sporty and sophisticated gadget with all those averagely rated features, in reality the slim Galaxy S5 body holds the most advanced features from multimedia to health-safety characteristics. What makes it even more exciting is durability and water resistance, allowing you to take those important calls even if it is raining over you.
Design
Though appealing, the Samsung Galaxy S5 fails to please our eyes with something substantial in its designing, because its body is not much different from Galaxy S4. It owns the same rounded edges, steep sides and glossy silvery trim, however it does have a more rectangular shape as compared to S4; that is what you get by looking at the phone from the front. However, if you switch sides, you will notice the rear side of the phone completely revamped. Now whether it appeases your eyes or not, maybe your personal choice, but the back cover retains a pebbled silver look, making it appear metallic, when in fact it is polycarbonate. This change in design gives the smartphone a more premium feel, making it dust and water resistant.

Galaxy S5 is only slightly larger than its predecessor when it comes to display, boasting a 5.1-inches of 1080p HD AMOLED screen. That will definitely have an effect on the display quality; however, the change may be too small for you to notice.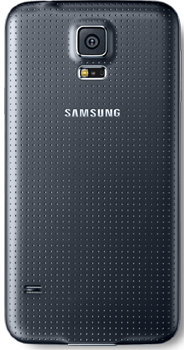 Camera
One of the most powerful features of Samsung Galaxy S5 turns out to be its HDR camera with a 16-megapixel sensor and LED flash, allowing you to take pictures in an extremely high resolution of 5312 x 2988 pixels. The camera is also equipped with 'Fast Auto Focus' feature, making it effortless to shoot actions as they are happening. The HDR mode adds a special touch to your photographs and videos, balancing the level of brightness automatically, be it day or night. Another very exciting feature, which you must not even have thought of, would force you to jump out of those bulky DSLRs to a smartphone is the Selective Focus. This is the exact same feature you find on DSLRs where the photographer focuses on a particular object, leaving the background blur and out of focus.

Two Most Prominent Features Samsung Galaxy S5:
Finger Print Scanner
This is one astounding feature that makes Galaxy S5 a must-have; it ensures greater protection for all of your important data. Whether you aspire to store private information or keep your chats personal, the finger print scanner will make sure that nobody except you unlocks your phone. However, the authenticity of this feature  will remain uncertain until we get a chance to actually test it.

Heart Rate Monitor
A new S Health 3.0 app is an efficient health tracker that not just monitors your heart rate but provides additional tools like pedometer, and diet and exercise records. This monitor is imbedded into the back cover of the phone, right next to the camera flash, and gives your pulse reading when you press a finger against this sensor.

Samsung Galaxy S5 Hardware and other Specifications:
Network: LTE Cat.4 (150/50Mbps)
Display: 5.1-inch FHD Super AMOLED (1920 x 1080)
AP: 2.5GHz Quad core application processor
OS: Android 4.4.2 (KitKat)
Camera: 16MP (rear), 2.0MP (front)
Video: UHD@30fps, HDR, video stabilization
Camera Features: HDR (Rich tone), Selective Focus, Virtual Tour Shot, Shot&More
Additional Features: IP67 Dust and water Resistant, Ultra Power Saving Mode, Download Booster, S Health 3.0, Quick Connect, Private Mode, Kids Mode
Connectivity: WiFi: 802.11 a/b/g/n/ac HT80, MIMO(2×2), Bluetooth: 4.0 BLE / ANT+, USB: USB 3.0, NFC, IR Remote
Sensor: Accelerometer, gyro, proximity, compass, barometer, Hall, RGB ambient light, Gesture(IR), Finger Scanner, Heart rate sensor
Memory: RAM: 2GB, Internal Memory: 16/32GB, microSD slot upto 64GB
Dimension: 142.0 x 72.5 x 8.1mm, 145g
Battery: 2800mAh, Standby time: 390 hrs / Talk time: 21 hrs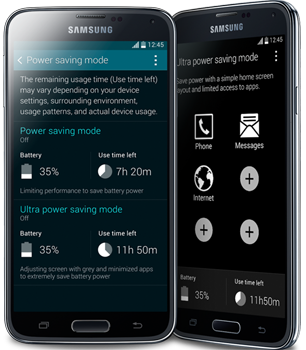 While there is no word on the pricing yet, what we know so far is that the Samsung Galaxy S5 is likely to hit the markets in April, probably on the 11th. So, are you too as excited as me?