Are you absent minded or do you have too many things that you need to remember? Well, now you don't have to worry about that because Sony has introduced their new voice recorder which is also the world's slimmest voice recorder ever. The all new Sony ICD-TX50 has just become the world's thinnest voice recorder that measures only 6.4mm in thickness and weighs around 50 grams. Sony believes that this will certainly become one of the popular voice recorders in the world because it does not take much pocket space.
If you are too busy with your schedule or if you want to impress someone in your office then this is the right gadget that you should have. The all new Sony voice recorder looks thin and has high gloss appearance on it along with OLED display which is easier to read even in bright sunlight. To make it even better Sony has incorporated an extra clip that users can use to attach the voice recorder to the shirt pocket so that there is no slip and break issues.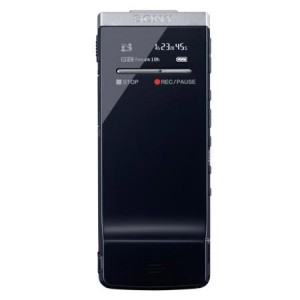 Sony has incorporated high quality stereo microphone to it that can record everything that is said in the room. So, now you can record everything like interviews and even the entire conference meeting talks on this one. It has 4GB memory storage with an optional SD card storage option which means that you can go ahead and record more and more voices. The battery is really good on this one and it can work for an hour when you charge the battery for three minutes.