Big smartphones are becoming increasingly popular globally as consumers demand for bigger and better resolution screens that can allow them to do more with their devices. Sony has come up with many Xperia devices that offer bigger and high resolution screens to the consumers so that they can make good use of it and Sony Z Ultra tops the list when it comes to big smartphones that has the right looks and performance. The smartphone is available in two different flavors, one model is designed specifically for Sony Xperia branding and apps while the other is straight from Google and that offers an untarnished version of Android for Android lovers only. So, what's really different between the two and what does Sony Z Ultra Google Play Edition bring to the table for the consumers?
Design
In terms of design, both Sony Z Ultra and Sony Z Ultra Google Play Edition look identical. The body is really thin and it feels very premium when you take a first look at the device.
Sony Z Ultra Google Play Edition has lot of glass in the front and therefore users will have to be particular not to drop this device. While the Xperia version is available in white, black and purple colors, the Google Play Edition gets conservative black color.
The new Sony Z Ultra Google Play Edition is a waterproof phone and therefore users can take it along while swimming, in the shower, or for bathing. The device is extremely thin at just 6.5mm making it one of the slimmest mobile devices in the market. The shiny silver power button and volume buttons are towards the center of the device. The exterior of the smartphone is IP55 dust resistant and IP58 waterproof.
Display
Sony Z Ultra offers a massive 6.4 inch 1080p screen on the front and that makes it look really impressive at a first glance. It offers Triluminous IPS LCD touchscreen and 1920 X 1080 pixels screen resolution that offers 342 ppi making it one of the best smartphones in terms of display combined with Sony's X Reality display software.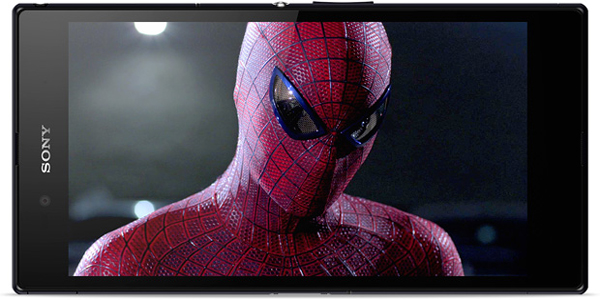 Processor
Under all that glass and metal frame, Sony Z Ultra Google Play Edition is powered by an impressive 2.2GHz Snapdragon 800 processor combined with 2GB RAM and comes with 16GB of internal storage. The device also supports microSD card and offers a card slot option. In terms of performance, Sony Z Ultra Google Play Edition is on par with Nexus 5 device because it has the same processor within.
Software
In terms of software, the Google Play version is definitely different from the Xperia device. The Google Play version of Sony Z Ultra offers unadulterated Android 4.4 KitKat experience which is very much on the same lines as any other Google Play Edition devices. Compared to the Xperia device, everything is stock from the launcher screen to the camera. Media services from Sony are missing on this one and there are no preloaded apps that are not included in the core Google apps. With no bloatware present, the device works faster than one can think.
Camera
Sony Z Ultra Google Play Edition version also offers 8 megapixel camera on the rear and that is something that users will have to look out for. The camera is not really as good as other Sony Xperia devices and that is disappointing for camera lovers. The camera app can startup, focus and shoot at user's will, but it does not offer Sony's scene modes and adjustable settings which keeps the camera settings simple. The camera on the front side is 2 megapixel camera that does a decent job for video calls.
Connectivity
Sony Z Ultra Google Play Edition offers wide range of connectivity features like 3G, LTE, 802.11 a/b/g/n/ac and dual band Wi-Fi. It also has NFC with Android Beam, Bluetooth 4 and AGPS.

Conclusion
Overall, Sony Z Ultra Google Play Edition has great features that make this big smartphone one of the most desirable phones in its category. It offers amazingly beautiful display resolution and 6 inch plus screen which is good, but in terms of audio it does not prove to be that good. Most of the Xperia features are missing and therefore the phone offers better experience to those who are happy with stock Android experience of KitKat. Starting at around $650 off contract the smartphone is really expensive for the kind of features that it offers, but at the end of the day this smartphone can really compete some of the tablets in the market.