Google Nexus 7 is the first Nexus-branded tablet and developed by ASUS and Google, it seems to be a bold move. Well, how bold, that you can judge from Google Nexus 7 review on this page. Clearly, Google Nexus 7 has the benefit of running plain vanilla flavor Android, creative with manufacturer skins. Earlier, Google was relaxed about releasing Honeycomb to manufacturers but without their branding. But times have changed now.
The Design Aspect
Let us start Google Nexus 7 review with the designing and it looks a bit understated at first look. Although there is nothing here to really gloat about, but one enjoys a lot of function in the design choices.
The buttons and ports on Google Nexus 7 can be seen when looking at the device from the front. The buttons are placed closely and soon you will get pretty much used to them. They make a nice click when pressed. The power/wake button lies on the right side, and you'll find the micro USB port as well as the 3.5mm jack on the bottom side. With 4 pogo pins on the left side, the entire top-side and the left edge are free.
The back side is completely bare except the speaker. The soft touch plastic almost feels like leather. However, you will definitely miss two features on Google Nexus 7 and one is the rear-facing camera and second, the notification light. The ASUS logo is engraved just above the speaker and the Nexus logo is at the top.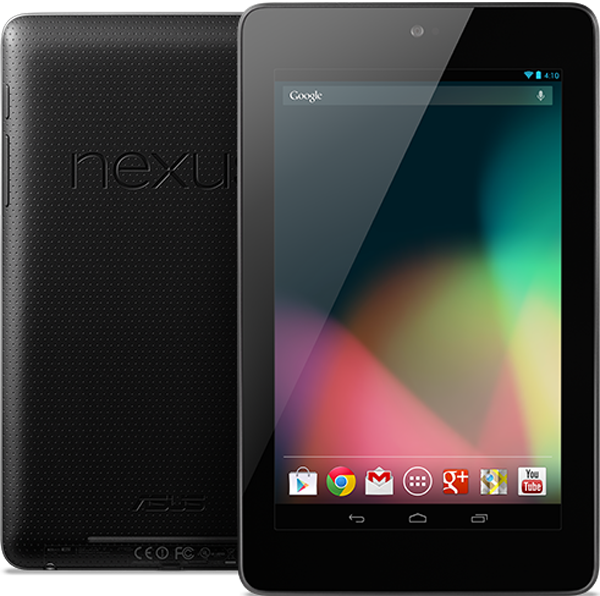 Screen
Google Nexus 7 gets its name partly from the 7", back-lit IPS display in resolution of 1280×800, It is a great screen though not the biggest screen in terms of size and resolution. The higher resolution and relatively small size means that you can enjoy great color reproduction. The device works great as an e-reader and it offers some excellent viewing angles to watch videos. However, using it in sunlight is not a very pleasing experience, as per Google Nexus 7 review. But the screen offers great responses, with easy swipes, accurate touches and presses. The device measures 198.5mm x 120mm x 10.45mm and weighs 340g.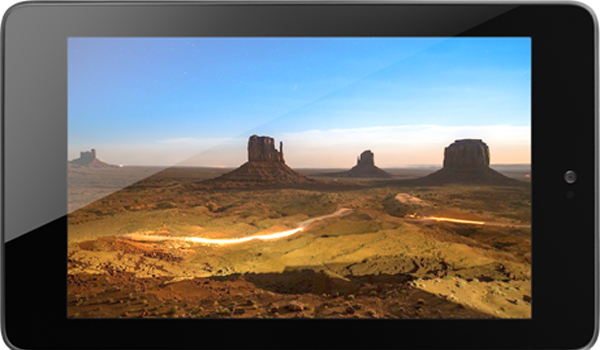 Sound
You will find the audio was loud enough in a small quiet room.   You can always fix in some headphones to get rid of the problem of low sound.
Cameras
With no rear-facing camera in Google Nexus 7, you will find even the camera application missing. But the gadget does have a rear-facing camera, what works just fine enough.
Battery life
You can manage to get well over 3 days of regular use out of Google Nexus 7. Read articles, watch videos, play games, for endless hours. The device managed to conjure up about 11 hours in the video looping test.

Software
Google Nexus 7 brings with it a new version of Android: 4.1, referred to as Jelly Bean that introduces some welcome additions.The homescreen UI is slightly different from other Android tablets and seems closer to the phone UI. The homescreen carries a shortcut bar at the bottom. A familiar pull down can access the notifications that take up only 3'4 of the screen.
What is there
a quad-core CPU clocked at 1.2GHz
1GB of RAM
8GB or 16GB of on-device storage
WiFi b/g/n and Bluetooth
What is not
no SD-slot for expandable storage
no 3G variant of the Nexus 7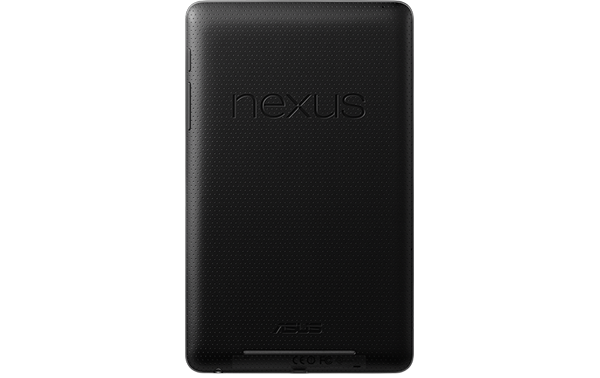 Conclusion on Google Nexus 7 Review
Google Nexus 7 is without doubt an excellent tablet, available at an outrageously competitive price. It's clearly one of the top Android tablet. Of course there are some downsides such as no rear-facing camera and no expandable storage. But still the low price makes up for any shortcomings.