There are hundreds of thousands of apps in the Google Play Store nowadays. You'll see so many different categories too, one of which is finance. Yes, there are plenty of great finance apps out there for you to try. Finance apps are great for helping you manage your money and help with everyday spending. But, you can't download them all, can you? So, I've compiled a list of the ten best finance apps for Android:
HSBC Mobile Banking
If you have an account with HSBC, then you should definitely download the mobile banking app. This is an easy and safe way of managing your accounts from a mobile device. You can check your bank statement and manage any payments in the palm of your hand. Obviously, there are mobile banking apps for other banks too. I just chose this one because it's my bank, but feel free to choose one relevant to you!
Paypal
A must-have finance app for anyone that shops online. Paypal is a quicker, simpler, way of paying for things on the internet. With a Paypal account, you can pay for stuff with the click of a button. Obviously, this app just makes payments even easier, and more secure. With some Android phones, you can set the password for the app to be a fingerprint! Also, you will get push notifications when payments are made. So, you'll easily know if someone is using your account without permission.
Simple Loan Calculator
This app is exactly what it says it is; a simple loan calculator! You can use it if you're preparing for a loan and need to see how much money to apply for. It's great if you need a loan, but you're not sure how big the loan will be. And, as it says on Cashfloat.co.uk, you should only apply for the amount of money you need. With this app, you'll be able to tell just how much you should get!
Barclays Pingit
If you want to send and receive money, in an instant, then Barclays Pingit is the app for you. Don't be fooled by the name, anyone can download and use this app, it's not limited to Barclays customers. The beauty of this app is that you can send money for free, and all you need is a mobile number. Great if you owe someone money and have to pay them back as quickly as possible.
Monefy Pro
Now, if you're looking for an app that can help you keep on top of your finances, Monefy Pro is a great idea. This app costs a little bit to download, but it can help you save a lot! It's basically a nifty way for you to track your expenses. Whenever you buy something, just input it into the app. The interface is cool and easy to use; you can see lots of different spending categories. At the end of each month, you can check to see where most of your money is going. For example, 22% of your money could've been spent on food & drink last month. It's super handy and excellent for people who are trying to live on a budget.
My Budget Book
My Budget Book is similar to the app above, but it comes with a cool 'budget mode' feature. This lets you set targets and goals for different time periods to help you save money. It also lets you set goals for particular criteria too, like fuel, food, and so on. So, you could create a weekly budget for your food & drink to help you save money when you shop for groceries. Or, you can set a monthly budget for fuel, which will help you drive more sensibly and save on fuel costs!
Yahoo Finance
If you want an app to track all the markets and economy, this is the app for you. With Yahoo Finance, you can look at all the latest stock prices and movements happening in the economy. You can even add stocks to your 'watchlist' so you'll never miss a beat. It's a great app for people who have money in stocks or are looking to start investing. Or, it's just a cool app for anyone interested in the world of finance.
Easy Currency Converter
This app is absolutely perfect for people who travel around a lot. If you often find yourself moving to different countries, then you know how annoying currency converting can be. Constantly trying to figure out the exchange rates and how much money you need to take out. With Easy Currency Converter, it does all this for you from your mobile device. You can set up currency lists with your most used currencies and find real-time exchange rates. Also, if you're into Forex trading, this can keep you up to date with exchange rate trends.
Debt Payoff Planner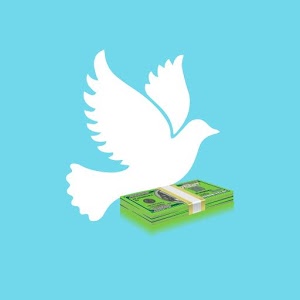 App Source: https://goo.gl/hVPHZa
The Debt Payoff Planner app is perfect for anyone in a spot of financial trouble. If you have any credit card/loan debt, you can use this to help plan your repayments. You can set up your repayments in the app and calculate how long it will take you to pay off your debt completely. Also, you can play around with it and figure out the best ways for you to reduce your debt. Who knows, by downloading this app you could see your debt wiped out a lot quicker than you expected.
Office Calculator
A really simple app that can make a big difference to your financial life. The Office Calculator app is perfect for calculating everyday spending. You just have to put in what you bought, and how much it costs, and the app will add it all up for you. It's also great for calculating how much things are going to cost you. If you're shopping around a store and pick out items, you can add their price to the calculator. So, you get a perfect idea of how much your shopping spree will cost you. And, you can even add tax! A nifty little app that can go a really long way.