Do you want to sell and buy products on the internet with ease? Online classified sites like OLX has managed to gain lot of popularity in the Indian market and millions today make use of the services that OLX.in provides. While the Indian consumers were not really keen on buying and selling through web technologies, but the popularity of OLX.in has changed the scenario in the Indian market. Today, millions of users make use of OLX website and also OLX app download options to buy and sell their items in an easier way.
Today, OLX has been able to be the leading online classifieds sites in India and they have done that gradually in past two years. For this, OLX has come up with various marketing and promotion campaigns that focus on how easier it is for the sellers and buyers to buy and sell items through OLX using their website and also the mobile app that they have launched. According to the information provided by Nasper, OLX has managed to stabilize their position in markets like India, Pakistan, Brazil and Portugal making it easier and simpler for the consumers to make their ads and post it online for the buyers.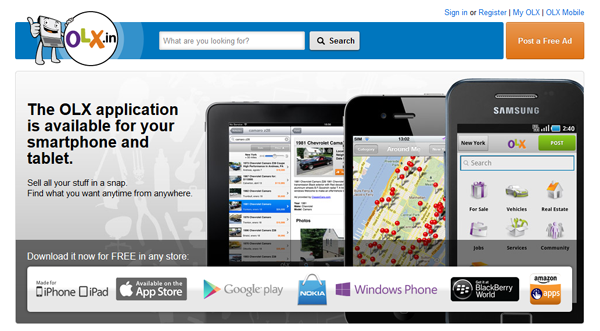 Amarjit Batra, CEO of OLX India claims that their market developments have paid off handsomely in the past two years and OLX has penetrated not just the big metro cities, but also small towns allowing them to have a strong loyal base of consumers that buy and sell their items through OLX. Now, OLX also stated that with the introduction of their new mobile app they have seen their mobile traffic rise compared to the web traffic. So far OLX has seen 3.2 million mobile downloads and the mobile traffic has shot from just 5% in July 2012 to 52% in July 2013. The company also said that they believe that using mobile apps makes it easier for the consumers to buy and sell items in a better way without being in front of their computer and laptops. Consumers can now download the apps with respect to their operating system that they have on their smartphones and make use of the app to buy and sell items online.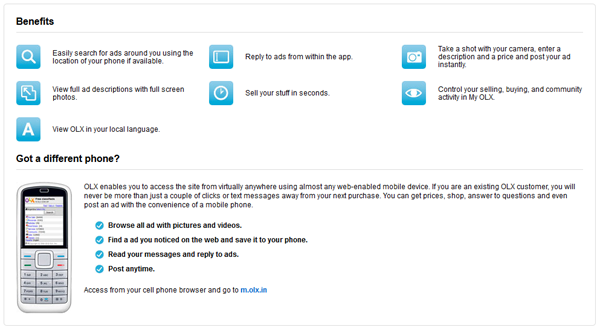 Consumers that make use of smartphones and want to buy and sell through their mobile devices can make use of OLX classifieds for iOS or Android depending on the smartphones that they use and download the app. This makes the entire process simple because consumers no longer have to have laptops or computers to make their post or search for products on OLX. The app offers wide range of features for sellers where they can take the picture of the item they want to sell, type in the required details, price and contact information and post the ad. Similarly, buyers can also search for the products that they want to purchase using the mobile app and ensure that they get the best products through sellers that in their area which offers them a way to buy and sell with comfort and convenience on the internet.