While intending to surf through the internet, the first thing that you open up is a web browser. For years now, web browser applications from different software vendors have been sprinting to be listed on the top of the list. However, the rankings just keep on changing with every new release or upgrade. Hereunder, I have evaluated some of the most commended browsers. The five applications that I will be considering are: Google Chrome, Internet Explorer, Mozilla Firefox, Opera, and Apple Safari.
Market Share
With 39% share of the worldwide web-browser usage, Google Chrome is stated as the most widely used browser in the world. Internet explorer on the other hand was the only web browser that attained a peak of 95% share of the overall usage in 2002. Although the rankings are now declined due to many new applications with innovative features, it is still regarded among the leading ones with 29% usage. Firefox is assisting to more than 18% of the overall web browser users, which are nearly 450 million. Apple Safari stands on the lower side with 15.4% market share, as its newer versions are not supported on Windows; the most largely used operating system. At the bottom lies Opera web browser which is being used by 2.2% of the overall web users.
OS Support
Firefox is proved to have the highest compatibility across the operating systems than the others. It is compatible with Microsoft Windows, Linux, Firefox OS, FreeBSD, NetBSD, OpenBSD, and OpenIndiana. Firefox is followed by Google Chrome, which is also operational across different operating systems including Apple's Mac OS X, Linux, and Microsoft Windows. Other than desktop OS versions, both Firefox and Chrome also run easily on Windows Phone, iOS, and Google Android. Placed on third is Opera that also has impressive compatibility with Microsoft Windows, Mac OS X, Linux, and FreeBSD. Internet Explorer is the one, which comes preloaded in Microsoft Windows, and also runs on Solaris OS, and HP-UX Unix. IE was once compatible with Mac OS X up till its fifth version. However, it is not supportive anymore. Similarly, Safari was also compatible with Microsoft Windows till the version 5.1.7, which outdated in 2012. Since then, Safari's desktop package is exclusively functional in OS X.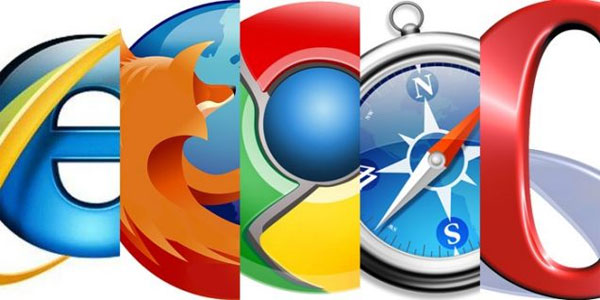 Application Features
When it comes to features, Google Chrome is rich in that. It welcomes you in a number of ways while you open it up. You can set the homepage either as bookmarks view, search engine, recently visited etc, as per your preferences. The most valuable feature is its online store that can be accessed from within the My Apps page. There you can find different toolbars, extensions, web applications, and themes. Firefox also allows you to change the background theme with certain tools downloadable from the add-ons web page. Rest of the listed browsers fulfill the modern web browsing standards with recent visited view, restore capability, and tab previews.
Overall Rating
| | | | | | |
| --- | --- | --- | --- | --- | --- |
| Web Browser | Developer | User-Interface | OS Support | Features | Average |
| Google Chrome | Google | 9/10 | 8/10 | 9/10 | 8.7/10 |
| Mozilla Firefox | Mozilla | 8/10 | 9/10 | 7/10 | 7.7/10 |
| Internet Explorer | Microsoft | 8/10 | 6/10 | 7/10 |   7 /10 |
| Safari | Apple | 8/10 | 5/10 | 8/10 |   7 /10 |
| Opera | Opera Soft. | 7/10 | 7/10 | 6/10 | 6.7/10 |
From the above noted facts and figures, you can identify yourself what internet browser is the most preferable. This could vary from user to user grounding on the unique inclination of each towards compatibility, market share, user-interface, and exclusive features. So, what's your favorite web browser?