Designing a home cinema is the dream of many. With enough funds, you can transform a space into a miniature theater, with tiered seats, epic sound system and massive screen. However, you can also construct your own shrine to the movie gods with a little less money and some DIY; with plenty of online resources available offering detailed instructions, it's easy to create your own little entertainment space.
Getting started
For most homes, a small room will suffice, though a bigger sound system requires a larger amount of space in order to maximize acoustic quality. It's also important to soundproof the room as well as block out additional light. This can be achieved through carpeting the floor, using plush furniture, installing soundproof panels on the walls as well as shutters, which effectively block out light and sound (you can find a well-priced selection of these at http://www.theshutterstore.com/).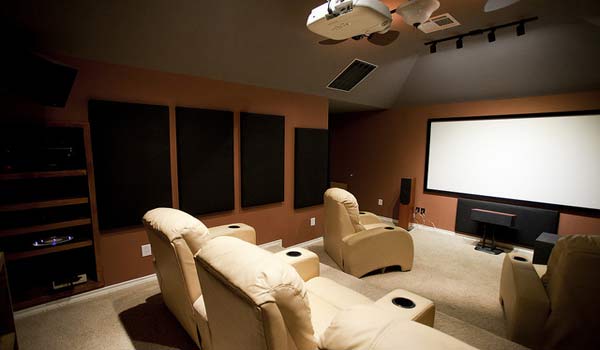 Equipment
If you have a small space with which to work, you can use a large, flat screen TV (with HDMI box, of course), or alternatively, purchase a projector. Once again, you'll need to take into consideration room measurements – where you place the projector shelf and where the image will be projected will be dictated by this. Having easy access to the projecting device is also essential, as well as keeping it out of the way – it should have its own shelving unit, which can also be enhanced to include your DVD collection, as well as a platform for the media devices to which you will be connecting it (laptop, console, etc.).
You will want to upgrade to a sound system that will complement your room, but again, these don't have to be expensive, especially when working with a smaller space. It's easy to find discounts on speakers during sales as well as online. You can consult with technical experts in-store, and read reviews online to get an idea not only of the price range but also the quality and durability. Consider how you will organize your devices. You will need a receiver – the central control center where all of your media devices will interact – and your wires should be tucked neatly away. Should you choose wireless tech, such as Bluetooth, remember that the more frequently you use your home cinema and the more powerful it is, the more juice it will require. Given that a home cinema only needs to be adaptable (to different mediums) but not portable, it's best to stick with wired where power is concerned; wireless is best-suited to controllers.
Décor
You can customize to your heart's content – if you're a sci-fi fan, deck it out with space-themed, retro graphic pinups, or go vintage instead (both can be easily done with leather sofas, light coverings and even wallpaper). Showcase movie merchandise on shelves. If you're big on popcorn and soda, use small tables and cup holders to make the space more food-friendly and easy to clean. Think about what you and your family cherish about the movie-going experience and make it your own – and your house will be the hottest movie and gaming destination among your friends.