New Ford Edge:
The Edge is Ford's new family SUV. You can't miss it, it's impressive dimensions will make it stand out as one of the larger SUVs on the market. This is marketed as a family car which makes it quite surprising that there is no seven-seat option currently available.
There are two engine options to choose from but both are diesel. In terms of trim options, you can select from Zetec, Titanium, and Sport. All models have permanent four-wheel drive which saves you having to mess around selecting it.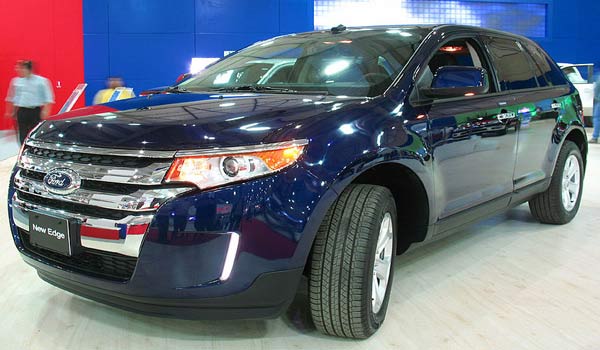 Does the performance impress?
The Edge is one of the largest SUVs that you can buy and so the way in which it handles on country lanes and in city traffic is important. It is 2.2 meters wide so you won't be weaving through traffic in this vehicle. This together with the limited visibility does not make for comfortable driving in packed city streets.
However, this car is aimed at premium buyers, and you get the refined feel that you would expect. The ride varies by the model that you select. If you choose the Zetec and Titanium models you can enjoy the relaxed suspension and comfortable ride, even when you encounter a rough road surface. On the other hand, if you opt for the Sports model, the firmer springs and bigger wheels work with the adaptive steering system to give you something a little more exciting. Off road, the permanent four-wheel drive and good ground clearance make it a practical workhorse.
You may be more disappointed with the handling of the non-sport models on bends. In the absence of the sports suspension, the car can pitch and wallow a little, especially at speed. The elastic feel to the steering can make you feel like you are slightly removed from the action.
The Sports version is equipped with a variable ratio steering system. The aim of this impressive kit is to reduce the amount of steering you have to do at lower speeds and when you are parking. It achieves this well but is not so useful at higher speeds. It fails to deliver the promised stability and even the stiffer springs do not offer much in body control.
The Edge comes into its own comfort-wise when cruising at moderate speeds. Ford's Active Noise Control system uses sound waves to cancel out noise from the road and the diesel engine giving a quiet ride. This feature is found in other new Ford vehicles like the Mondeo Vignale.
The 2.0 diesel is one of the most popular engine options and can deliver an impressive 0-62mph in 9.9 seconds. For such a large car, this is not bad going. Drivers may feel that it takes a while to build up speed and will probably want to drop it a gear for safe overtaking.
The 207bhp twin-turbo 2.0-litre engine is the quicker option and delivers 0-62 in 9.4 seconds but the six-speed manual gearbox feels sluggish as you change up the gears and fails to deliver the feel of a sporty car. Think smoothness and refinement rather than throaty power and excitement.
Which technology and design features does it feature?
The body is large and imposing, with a wedgy front-end and clamshell bonnet. There is a striking single-unit tail light bar and steeply raked rear window flanked by high shoulder lines giving an air of authority and making a statement that this is a premium model.
The 19-inch alloys are standard but the Titanium model has stylish twin-spoke alloys for you to look after. At the top end of the range, the Vignale is blessed with unique chromed alloys to match the sparkling grille and Vignale tailgate badges. The Sports model is delivered with a gloss black grille and black 20-inch alloys. The bumpers are sporty but the exhaust tips are fake. You won't get LED headlights unless you pay extra for them so you'll have to settle for halogen ones.
Once inside you could be forgiven for thinking that you are driving an S-MAX. The plastic curved center console will feel very familiar. There's plenty of soft-touch trim on the doors for a touch of luxury but the design is a bit on the plain side. The premium Vignale model will offer you a touch of leather but not much more. On the whole, the digital instruments are smart and clear but some settings are a little confusing.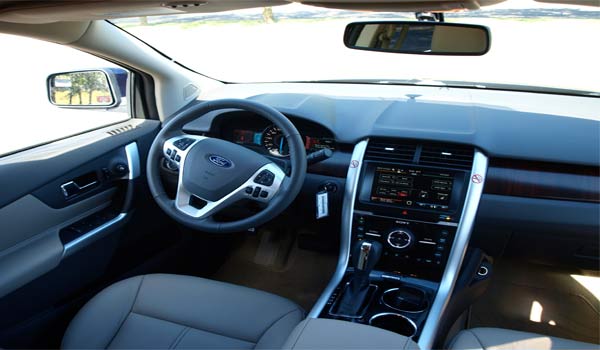 There is a range of high-tech equipment to keep you safe. The Lane Keep Assist, Traffic Sign Recognition, and Active City Stop are supplied as standard on all models which represents good value compared to many competitor models. With the Titanium model, you will get the additional sat-nav and heated front seats. You also get acoustic side glass to go with chrome roof rails and the electric boot operation. The downside is that it is very pricey to get leather seats as they only come as part of a package that includes electric memory adjustment and heating and cooling functions. With this option you also get a panoramic glass roof.
Entertainment is provided by one of three choices of 'infotainment' systems. With basic models, you will get a SYNC 2 eight-inch touchscreen, similar to that in the Mondeo and S-Max. It's easy to see on the clear display and there are numerous features. The problem is that the menu system can seem fiddly and the screen lags a little behind the buttons which can be frustrating. If you treat yourself to the Titanium, you'll get the sat-nav system as standard. Drivers of the Sports models are treated to Sony navigation and sound system delivered via no less than 12 speakers.
How does it function as a family car?
There is no getting away from the fact that the Edge is a large SUV and is designed as a family car. It stretches to a full 4.8m long making it bigger than the Audi Q5 and the Mercedes GLC. It is also nearly 2.2m wide so negotiating your way down narrow city streets and parking in narrow parking bays can be a very big issue.
Although the Edge does not offer a seven-seat model, it provides spacious traveling accommodation for a family of five. The boot is one of the biggest you will find amongst family SUVs. There is plenty of room for all the passengers with sufficient legroom in the rear for even tall adults.
It also has one of the largest boots provided by midsize SUVs so taking several kids (and all their gear) away for a family holiday is doable without resorting to a roof box. Even the glovebox is super-sized. The added extras inside are designed to make traveling with kids easier. You'll get central cupholders and chunky door bins. There is even a cubbyhole on top of the dashboard.
The front seat passengers are seated in comfort. The seats are both high and have many adjustments so that you can find the perfect position. In the back, there is ample space for three medium sized adults to seated in comfort with generous legroom and head and shoulder space. However, be warned, if you select one of the models with the panoramic sunroof, this encroaches a great deal on the headroom. Taller adults would probably still feel comfortable but it spoils the spacious feel inside the car. The hope is that this is compensated by the view!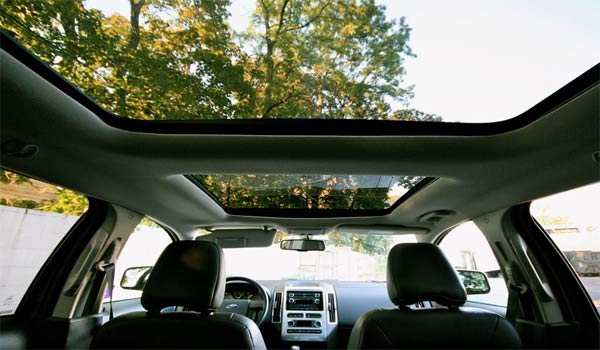 Given the ample dimensions of the boot and the head clearance, it seems a bit odd that a seven-seat version is not offered. After all, this is marketed as a family car. A seven-seat version is manufactured but it is currently only available in China. You can't help feeling that Ford has missed a trick here and excluded a whole sector of their potential market.
Whilst you may only be able to fit three kids in the car, there will be plenty of space for their stuff in the boot! It's a full 602 liters which is bigger than any of the BMW, Audi or Mercedes models can manage. When you fold down the seats you practically have a van for hauling large items of furniture around in an eye-watering 1847 liters of space. You can even fold the seats down electronically so you avoid the awkward leaning over and heaving on seat backs to maneuver into position. The space is not taken up by the spare wheel (it's the space-saver variety) but the underfloor storage compartments are relatively small compared to the rest of the boot.
Safety and reliability:
The Edge qualified for the Insurance Institute for Highway Safety's TOP SAFETY PICK award. It earned good ratings for protecting occupants in the moderate overlap front, side, roof strength and head restraint tests.
The comprehensive safety features will appeal to families but on some forums, drivers have griped about the in-car tech, poor reliability and build quality.
On the whole, this is an ideal car for a family with up to three kids who like to go on long journeys in comfort whilst taking a lot of kit with them. It's not suitable as a city run-around and those who like a sporty feel to their drive may be a little disappointed.