A Quick look at the Partition Recovery Software Benefits
Partitions can make our computers work better and efficiently. Data management is really important when it comes to handling computers and a good partition can make your computer work faster and smoothly. However, there are times when things go wrong and you might end up losing your data. This can be a great loss because most of our personal and business information today is stored on hard drives and recovering that information is really critical for us and our business. It is therefore essential to have a partition recovery software that can help us retrieve all the lost files and data that mean so much to us.
EaseUS Data Recovery Wizard Free is a perfect tool that can allow you to recover all the information that you have accidentally lost during creating partitions on your laptops and desktops. The software can solve all data loss problems to ensure that you have all the information you need to keep going. The program works efficiently to recover lost and deleted files from hard drives, external hard drives and USB-based hard drives. EaseUS Data Recovery Wizard Free is also efficient enough to recover files from other storage devices like memory card, digital camera, music player, mobile phones and other storage devices. It can recover files that have been deleted or lost due to operating system crash, virus attack, partition loss and incorrect formatting. The software can do a deep scan on the hard drive and ensure that you are able to recover up to 2GB of important information that matters to you and your business.
With EaseUS Data Recovery Wizard Free you can also have the option to pause the results while the software is scanning the information. You can then continue scanning the hard drive as and when you require. The software is available for free and is 100% safe to use and does not impact the performance of your desktop or laptop or do any internal damage. The recovery process is very interactive and that means you get clear and brief instructions to handle the process even if you have never done a recovery process earlier. The software is compatible with Windows 10, 8.1, 8, 7, Vista and XP. Users also get to see the preview of all the files that needs to be recovered. This saves time as users can decide which files they want to recover and that way they can recover only important files that matter to save time and effort.
1. Select Types of Lost Data
2. Select Location to start Finding Data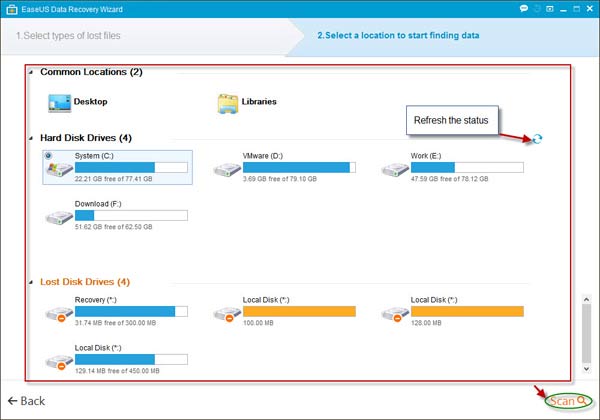 3. Preview and Recover the Files