Wedding Registry Gadgets
There are a lot of decisions that need to be made when you're planning and preparing for your wedding. You have to decide if you want to go with a plus size white wedding dress or something in ivory or blush, yellow or white cake, a single photo on invitations or a photo collage, and more. You even have to decide where you want to register and then figure out exactly what you want and need so that you can put those items on the registry. And figuring out what to put on your registry can be more difficult than you might think.
If you've been living together for a while or have each been living on your own for quite some time, then you have probably collected a lot of the things you need for your home and don't necessarily need new Tupperware, mixing bowls, utensils, plates, or anything of that sort. But you may feel that it won't be well-received if you fill your registry with whimsical, non-essentials like a soft serve ice cream maker or gifts that aren't for the both of you like a new pair of shoes. It's okay to add some things you want to your registry, but you want to ensure that they're going to be useful.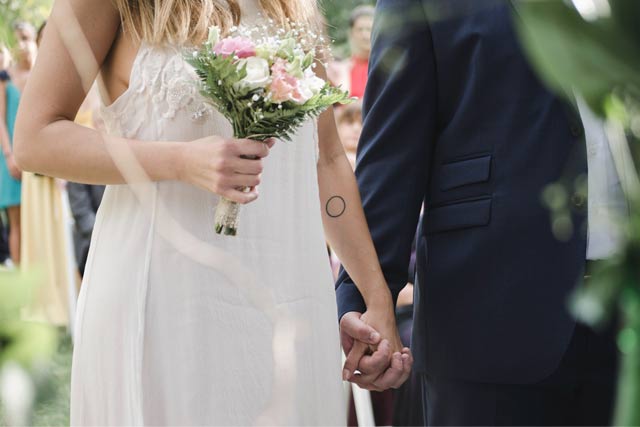 In today's tech-focused world, there are a lot of cool tech gadgets out there that can make life easier and be a lot of fun too. If you're not quite sure what to put on your wedding registry, then you may want to consider one of the following tech gadgets:
A Keurig Coffee Maker:
As of last year, 29 percent of coffee drinkers chose to use a Keurig, (or another single cup brewing system), as opposed to any other kind including a traditional coffee maker, instant coffee, etc. If you and your sweetie don't have one already, then a Keurig is something you'll want on your registry. While it may only make one cup at a time, it's quick, easy to use, and convenient, giving you more time to spend together in the mornings before work, plus it offers all sorts of flavor options so that you can have everything from your favorite black coffee to something sweeter and non-caffeinated like hot cocoa.
An Amazon Echo:
You may never have thought you needed a personal assistant until you've had Amazon Echo's Alexa at your service. From things as simple as telling the time or the weather to taking care of tasks you don't have time for at the moment, like adding items to your shopping list or calling an Uber, Alexa does it all. You can even have her schedule meetings on your calendar or play some music, so whether you and your new spouse are planning out your week or want to set the mood, an Amazon Echo is a great gadget that you'll want to have.
A Ring Doorbell:
Back in the day, people used to race to the door to see who came knocking, but these days people will ignore you completely unless you've texted them first or unless you're an order from Amazon Prime—either way, they want a heads up, and who wouldn't? If you and your soon-to-be spouse value your privacy and want to make sure you know who's at the door before you answer it, then a Ring doorbell is the perfect gadget to include on your registry. Not only does it let you know when someone's at the door to see you, but it also lets you see a video of them waiting directly on your phone.
An Instant Pot:
Whether you love to cook but rarely have time to make dinner, aren't much of a cook at all, or go into the kitchen when you walk through it to head out the door, an Instant Pot is a perfect gadget to put on your wedding registry. It cooks things quickly, so even if you don't get home on time prepare a meal the traditional way, you can still have a home-cooked dinner to enjoy. And, if you generally find cooking difficult, it makes things so much easier by allowing you to put a bunch of ingredients in, set the timer and let it cook—the work you have to do is minimal. An Instant Pot is a must-have gadget for couples.
Power Tools:
If you don't have any already, then adding power tools to your registry is something you need to do. Whether you add one or two tools or an entire kit, it's up to you, but even if you're renting instead of buying a house together, having those tools will come in handy. While you may not be able to do major repairs yourself, those tools will help make minor repairs or cosmetic changes, (like hanging photos), much easier than they otherwise would be.
Final Thoughts:
If you're having a hard time figuring out what to add to your wedding registry, don't forget about tech. There are plenty of tech gadgets out there that are both fun and useful, making them some of the best wedding gifts you'll receive. Whether you want something indulgent like a Keurig or something useful like power tools, or both, they're great gadgets to include on your wedding registry.
What other tech gadgets are you and your fiancé registering for?
Image Source: https://photos.icons8.com/